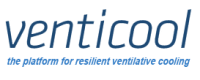 The 21st issue of the venticool newsletter is now available! Specific contents include:
Foreword
Feedback from the 42nd AIVC‐ 10th TightVent & 8th venticool Conference: Summary of the "Resilient Ventilative Cooling" track
4‐5 October 2023 – 43rd AIVC – 11th TightVent‐ 9th venticool conference in Copenhagen
IEA EBC Annex 80 Resilient Cooling of Buildings ‐ Proceedings from the 7th Expert Meeting
Cooling buildings sustainably in Europe
FAQs related to ventilative cooling!
Recordings from the AIVC/ venticool Webinars of November & December 2022
To download the newsletter please click here.