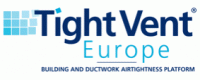 The 21st issue of the TightVent newsletter is now available! Specific contents include: 
Foreword
5 – 6 October 2022 – 42nd AIVC – 10th TightVent- 8th venticool conference in Rotterdam, Netherlands
4 – 6 May 2022 – 41st AIVC – ASHRAE IAQ joint conference in Athens, Greece
Building airtightness improvements in the UK building stock, a short analysis of the ATTMA Lodgement database
DURABILITAIR2: An experimental ongoing research study of the evolution of buildings' airtightness through field measurement and laboratory approaches
Upcoming Webinar! Inspection of ventilation systems in new regulations in European countries– 30 November 2021 (10:30 – 12:00 CET)
AIVC-TightVent Webinar "Impact of wind on airtightness test results" – Recordings & Slides now available
Product news from our partners
To download the newsletter please click here.